Experience nature in a whole new light. Check out the ultimate roundup of the best glamping spots in the Carolinas.
From description:
Stay in a gorgeous tree house for a luxury glamping experience perfect for a solo traveler or couple looking to get away, complete with access to hot tub and hammocks. Surrounded by towering pines within a 20-acre farm estate in Concord, NC, you feel like you are in the mountains of Asheville. Make it a weekend escape with friends by having them book one of the other private spaces available on property.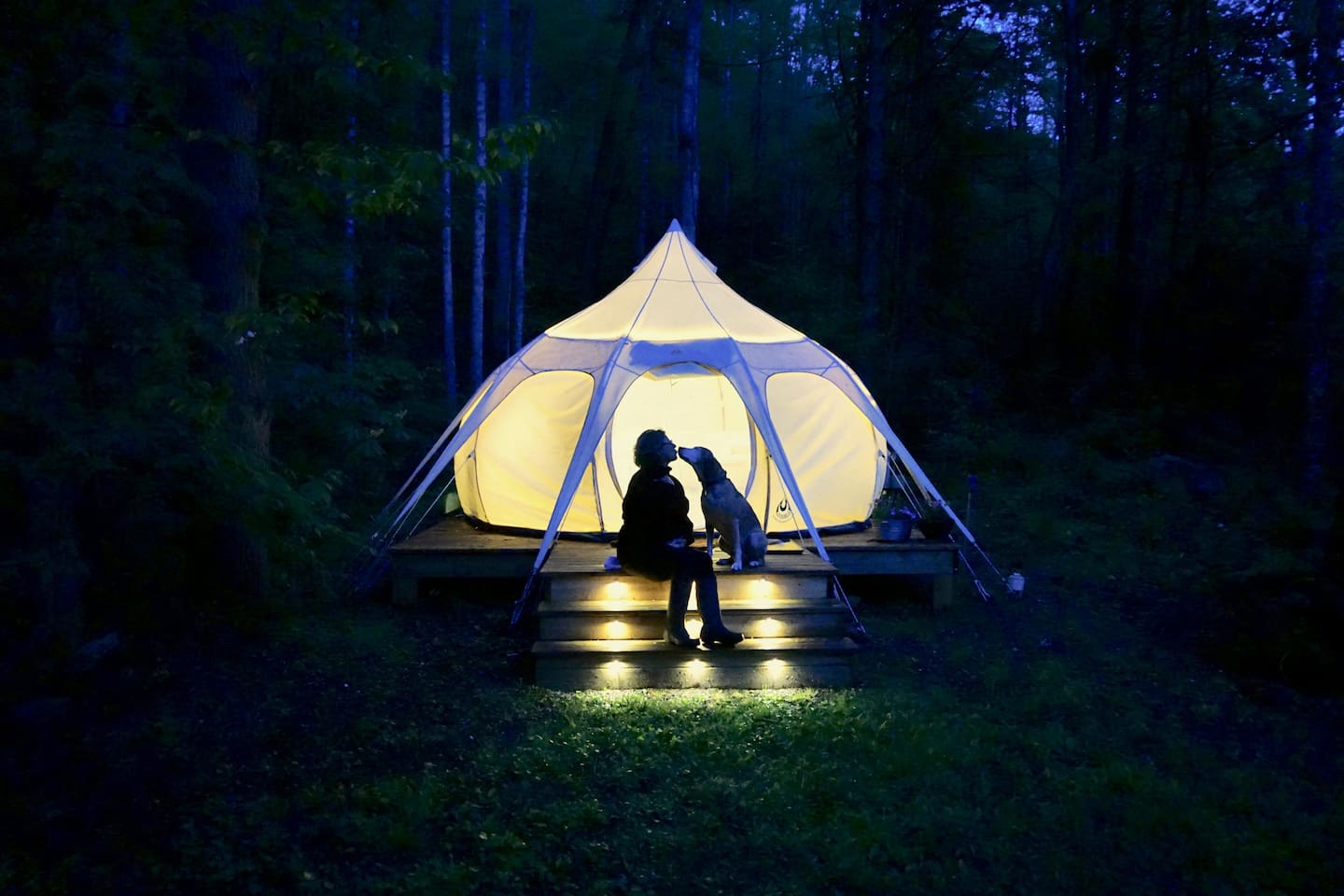 From description:
This quiet tent is nestled on 22 acres along the Smoky Mountains of North Carolina near Asheville, NC bordered by a crystal clear river and acres of national forest. Your days and nights can be spent in the heated tent listening to the creek flow melodiously past you, a perfect place to rest and let the sound of the water rejuvenate your heart. Complete with a private deck where you can sit for hours beside the creek and enjoy watching nature, meditating, or other nourishing activities. Amenities include a walk-in shower with a river stone flooring.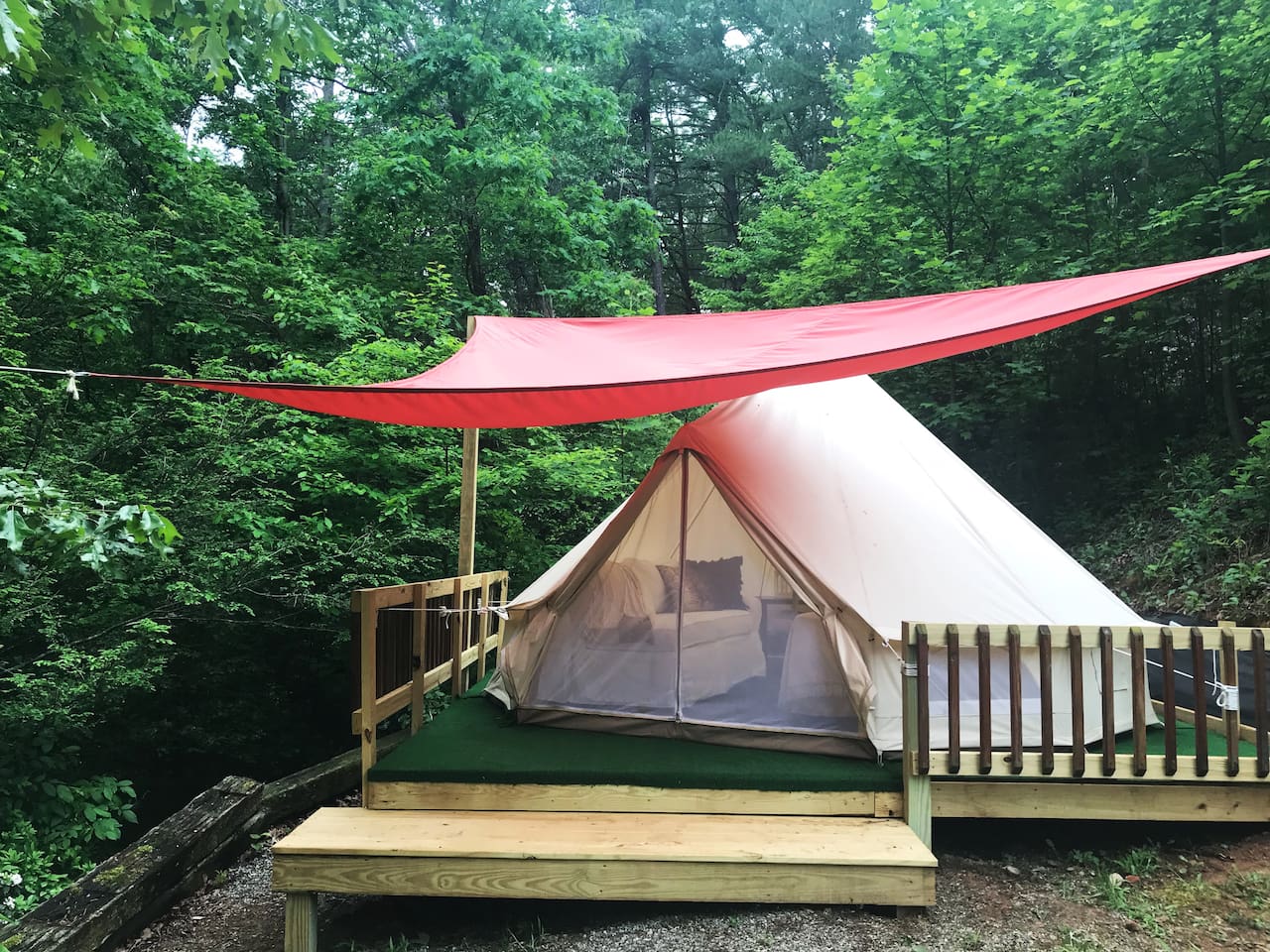 From description:
Enjoy the serenity of nature on a beautiful mountain ridge in the Township of Hot Springs, NC, approximately 1.5 miles from downtown. No tent to set up or air mattress to blow up, just bring your food, your favorite beverage, and the rest is covered. The Hollywood tent comes with one full size bed, one set of pillows and linens, night stand and very comfy sitting couch. This space is off the grid giving you a chance to unplug from the world and enjoy nature. A camping kettle and cast iron pans is provided to make hot meals during the chilly mountain evenings.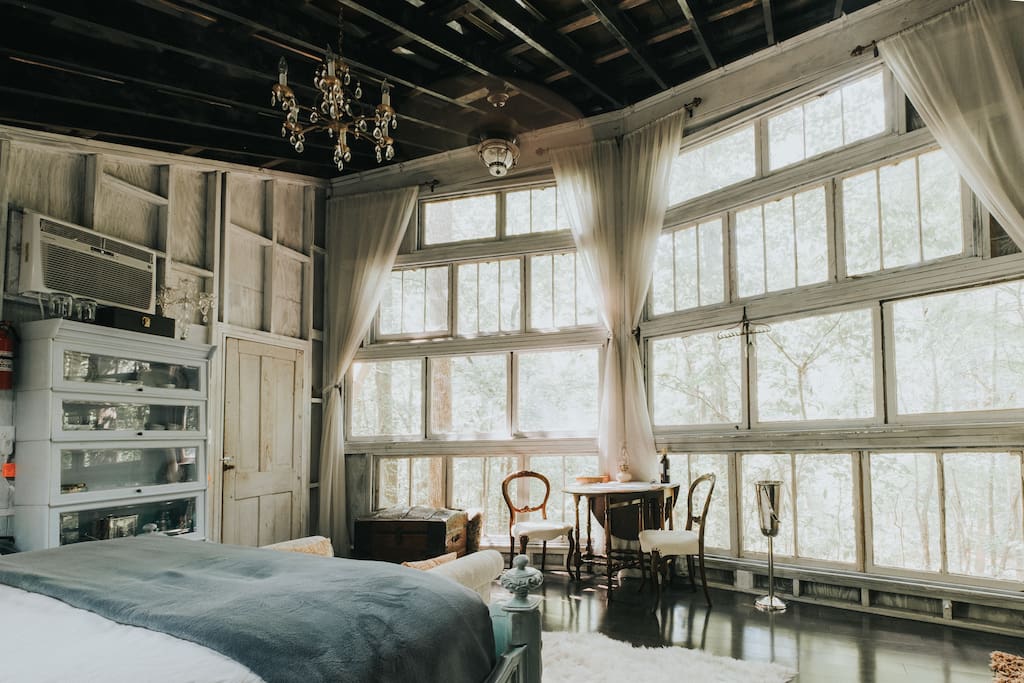 This glamorous award-winning treehouse is hidden within 40 acres of relaxation, gardens, the tranquility of untouched forest, songbirds, beautiful trees, and 2.5 miles of trails suitable for walking, hiking, jogging, & mountain biking. This gem is located in Oconee County which has been featured by CNN & Southern Living, and was covered by National Geographic as "50 of the World's Last Greatest Places: Destination of a Lifetime!". Features such as two connecting treehouse decks, fireplace, AC, indoor plumbing, outdoor shower, record player, and antiques make this is a year-round destination.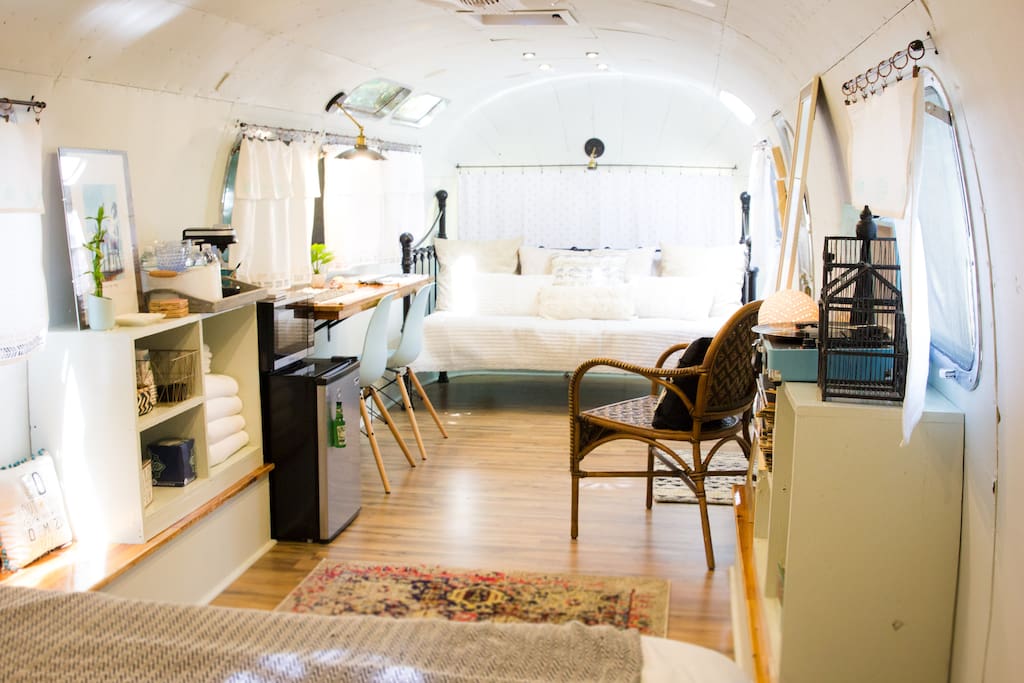 This fully renovated 1977 Airstream is located close to downtown CHarleston and beaches. The space provides guests with a private outhouse, outdoor shower, gas grill, and more. Extra special touches such as lush pillows, bedding, and towels make your stay away from home perfect. Decorated with Bohemian coastal décor, you'll enjoy every moment you spend at the camper. Whether your listening to vintage records while sipping on a local craft brew or out on the town enjoying all of Charleston's many activities, you'll be sure to enjoy a great getaway.
From description:
Come experience the magic of being being held in the arms of hundred year old trees surrounded by the Blue Ridge Mountains. This treehouse is close to all that Asheville has to offer and is only minutes from the Blue Ridge Parkway. You'll love the ambiance, the outdoor space, and the comfortable accommodations. There are no window treatments to block the amazing views of the nature that surrounds this tranquil treehouse.
From description:
Sometimes you just want to pack a bag and head out to somewhere peaceful with out having to pack all your camping gear. Everything you need for a luxurious truly relaxing weekend is here. This 16 ft Bell tent is located on a 15 acre hobby farm about 1 hour from everything in the lowcountry and has a real queen size bed with a 12 inch memory foam mattress. There is even a small electric portable silent generator to charge your cell phones , laptops or other small gadgets. Spend your days visiting Savannah, Charleston or Hilton Head then come back to the country side to unwind.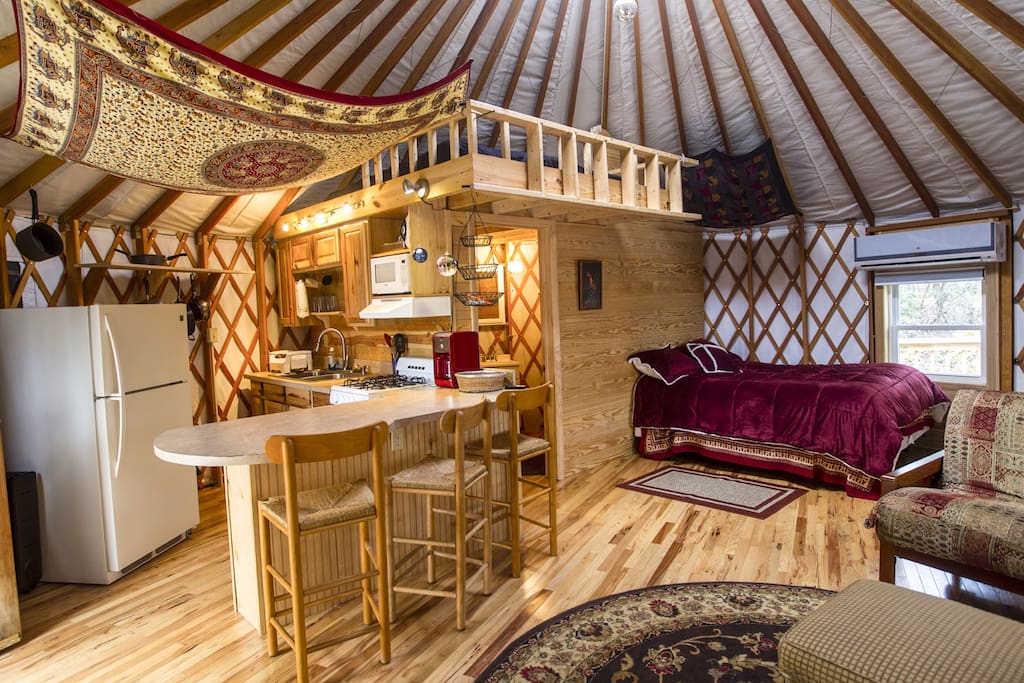 From description:
Come try something new and adventurous and stay in a yurt. You can feel a closeness to nature without skimping on amenities. The yurt is outfitted with everything you need to have wonderful retreat. While in a secluded location, the yurt is located only 15-20 minutes from Biltmore, downtown Asheville, and Black Mountain. If you are looking for a hike the Mountains to the Sea Trail is only 100 yards from your door.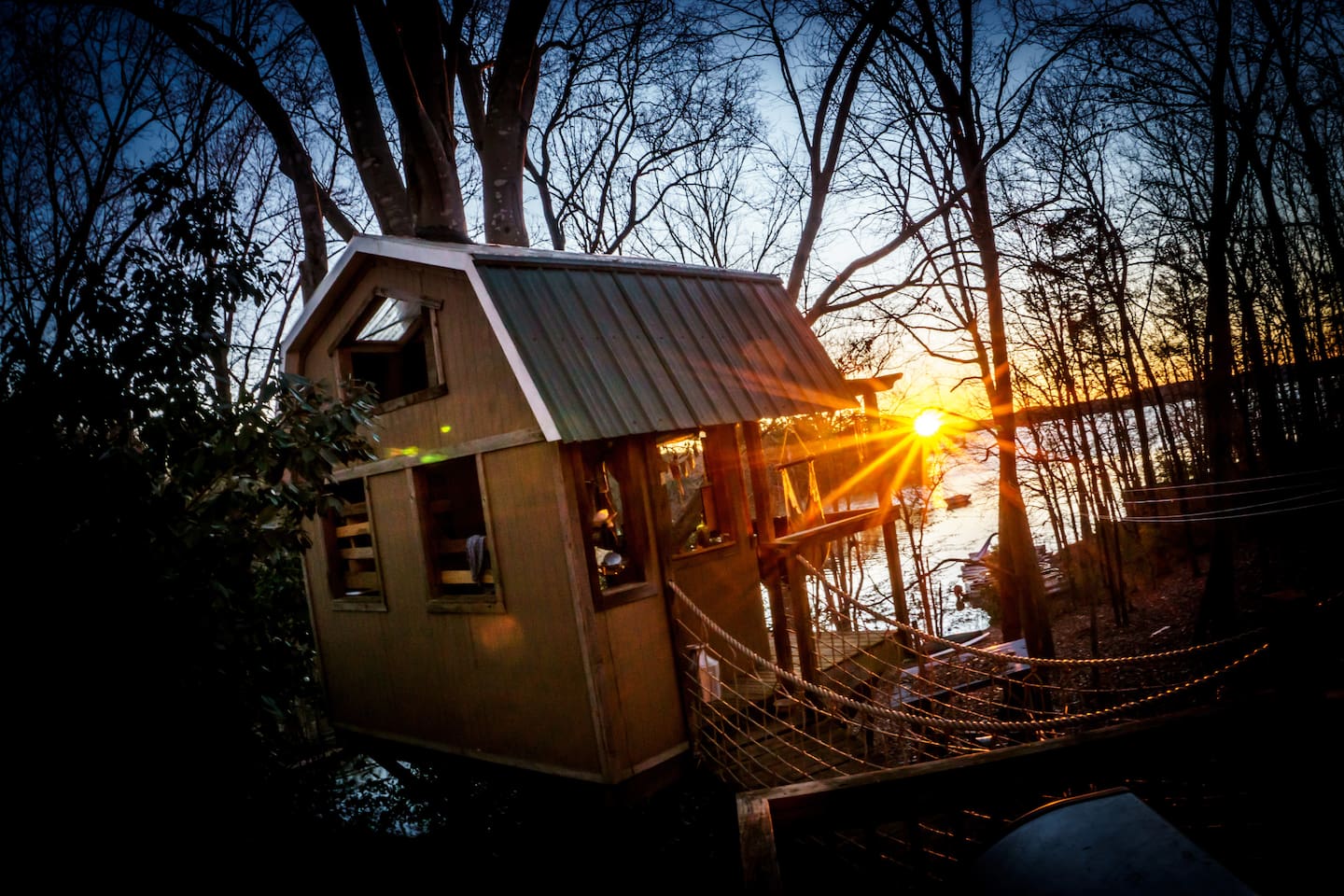 From description:
Come lounge in a rustic nest that graces the branches of an old beech tree in beautiful upstate South Carolina for an authentic treehouse experience.  Sleep tight in a queen size bed protected by a mosquito net, and tucked under a line of twinkle lights. Wake up with fresh air in your lungs and a sunrise over Lake Hartwell while breakfast is prepared for you every morning. During the day you'll have access to a canoe, two kayaks, a stand-up paddle board and a short walk down the forest path that lead you to the shores of Lake Hartwell, basking in the South Carolina sun.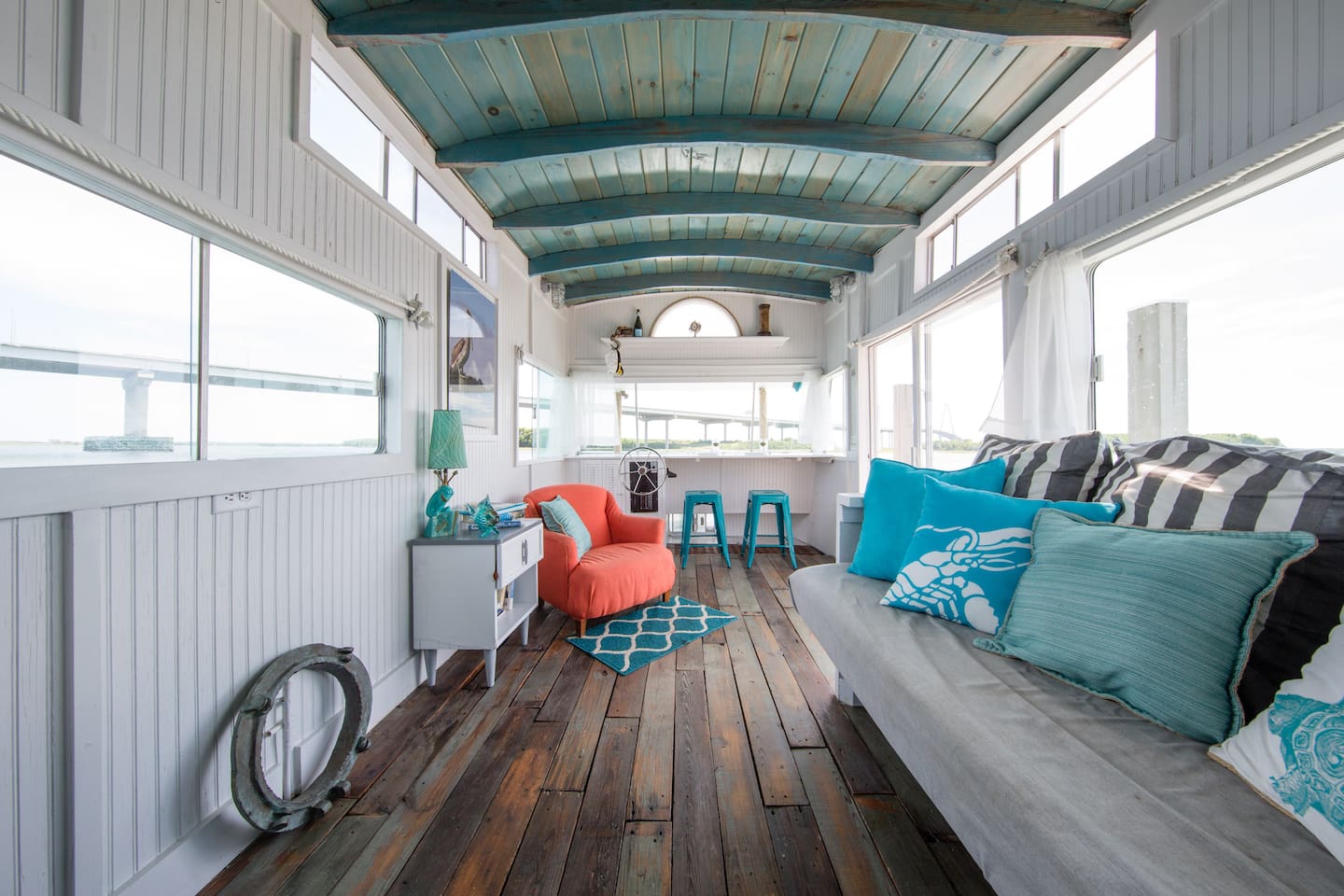 From description:
Your floating glamping adventure awaits! Dubbed Charleston's Best Airbnb Experience, these houseboats have been gutted & rebuilt using reclaimed materials, sweat, and love. You'll find this very spacious houseboat with vaulted 12′ ceilings. Enjoy morning coffee & evening cocktails on the deck overlooking Downtown Charleston's harbor and the Ravenel Bridge.
PIN FOR LATER: